This classic side/night table with its minimal lines allows for the surface you choose to be the star. -FORSSBERG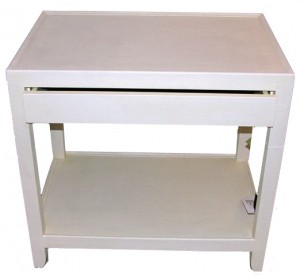 The drawer under the top apron is lined in a cotton moire fabric, giving this table a very finished appearance, even when the drawer is left open.
Available in the lacquered linen, embossed leather or snake skin. Size and color customized to suit your needs. Hand made in the United States.
---
SIDE & NIGHT TABLE GALLERY
First Line, Left: Hale style side table, covered in snakeskin
First Line, Center: Parsons style occasional table with bullnosed edge, covered in embossed leather
First Line, Right: Chinese style side/night table with three drawers, covered in lacquered linen
Second Line, Left: >Telephone style side table, covered in lacquered linen
Second Line, Center: Pani style side table with glass top, covered in embossed leather
Second Line, Right: Telephone style side/night table with one drawer under apron with lower shelf, covered in embossed leather