WINDSOR TABLES
"These sturdy little beauties as Sue Fisher King of San Francisco has called them are not only jewelry for the home but the epitome of elegance besides being extremely useable. – FORSSBERG

Tiny tables make fine perches for a telephone, a vase, a modest lamp even dinner for one. I love small tables that can be carried from room to room or from a chair to a bed. – Christopher Coleman

I love anything that makes life easier. – Mario Buatta, The New York Times Personal Shopper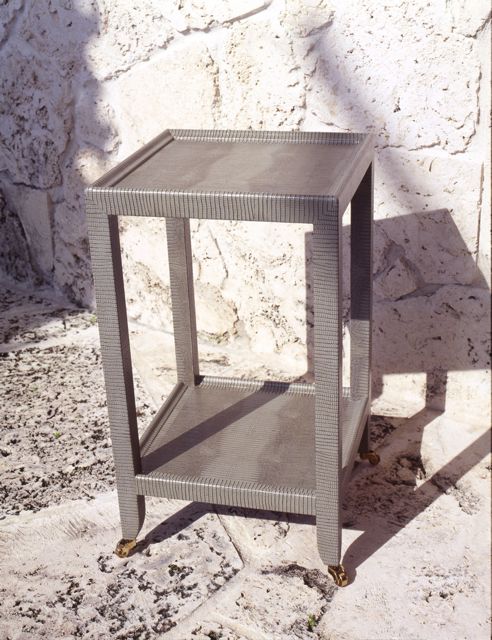 First introduced in the 1920's by the House of Jansen in Paris, and in the 1960s reinterpreted in snakeskin by Karl Springer, for his longtime client the Dutchess of Windsor.
Versatile and prestigious, the Windsor Table may be used as a telephone table, wine caddy, placed next to the bed for books or an occasional table for drinks or afternoon tea.
Size, finish, and color customized to suit your needs. Hand made in the United States.
---
WHAT IS THE MOST VERSATILE PIECE OF FURNITURE I CAN BUY?
---
WINDSOR TABLE GALLERY
First Line, Left: Windsor Table, covered in tobacco colored snakeskin with natural markings
First Line, Center: Windsor Table, covered in Karung snakeskin
First Line, Right: alli arjuna songs online Windsor Table, covered in Cobra snakeskin
Second Line, Left: Windsor Tables, left three covered in snakeskin, far right in lacquered linen
Second Line, Center: Windsor Table, frame covered in lacquered linen with Shagreen insert and Porcupine quill detail
Second Line, Right: Windsor Table, covered in American Lizard embossed leather Third line, Left: Windsor Table, frame in Macassar ebony and full bead Shagreen insert
Third line, Center: Windsor Tables, with Shagreen inserts
Third line, Right: Nesting Windsor Tables, covered in Cobra snakeskin on casters
Fourth line, Left: Windsor Table, covered in Tobacco snakeskin with natural markings (top left), Windsor Table, covered in Gold Karung snakeskin (bottom right)